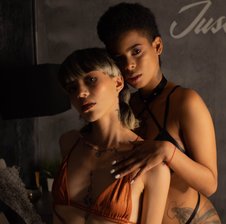 witches-
Modèle d'épingle
Décrocher le modèle
21, Pisces, Colombia, Latinas
Dernière Connexion:
01/02/23 12:36:05
Les détails importants de
witches-
| | |
| --- | --- |
| Sexe | Couple Femme + Femme |
| Orientation sexuelle | Bisexuel(le) |
| Age | 21 |
| Taille | 160cm - 170cm |
| Poids | 40 - 45 kg |
| Cheveux | Brunes |
| Yeux | Marron |
| Origines | Latino / Hispanique |
| Langues | Anglais, Espagnol |
| Ville d'origine | Latinas |
| Poils Pubiens | Rasées |
| Poitrine | Petit |
| Cul | Moyenne |
🔥We like coven aspirants who dare to give free rein to our passion without limits, ready to learn all about sex spells, sensuality and eroticism... We are hot for you to be brave and let the flame of curiosity make you enter the dark and deep paths of this pair of witches... do you consider yourself worthy?🔥
🔮Long ago, when the ends of the earth were still a mystery, the witches took over the darkness and everything touched by it. As time progressed the light began to touch everything in existence and the kingdom of the witches became smaller and smaller, some became extinct, but two of them are still around and began to inhabit the dark side of every man, taking over his desires and making his fetishes come true, under a curse that prevents them from touching each other, they can only enjoy each other when a naughty neophyte dares to play with them and their potions, the price set leads to the unthinkable. ... great power leads to great rewards🔮
⚠We detest that you treat us from banality, lack of imagination is punishable by expulsion from the coven. If you go against the orders of your witches, you will be expelled; acts of rebellion are highly punished⚠
Ce que nous faisons en webcam
Heures de travail de witches-
Clips Amateurs de witches-
A sexy kisses from a couple of witches!
1:25
Vues

14
ACHETER 10 Jetons
Merry christmas of your witches!
4:40
Dark christmas for a pagan love
4:45
Liste de souhaits de witches-
Hi neophytes, welcome to this coven ♥